Why is the stainless steel immersion Centrifugal Pump the best of its kind?
Stainless Steel Immersion Centrifugal Pump AISI 316L it is ideal for higher temperatures, up to 100°C and in special applications like hot sodium hydroxide. All wetted metal components are made from corrosion-resistant stainless steel AISI 316L. For special applications like handling of chromium-nickel, electro polished models are available.
Typical Applications:
Surface Treatment
Water Treatment
Heat Exchangers
Waste Disposal
Design Features & Benefits
Tapflo's innovative design philosophy has been applied to the CTV in the Stainless Steel range resulting in a simple yet reliable pump to meet with the requirements of the applications it caters for. Subsequently, it enables them to be maintained and troubleshot in a limited time frame. This results in very short downtimes and extremely low maintenance cost. In fact, in many cases once installed these pumps are maintenance-free!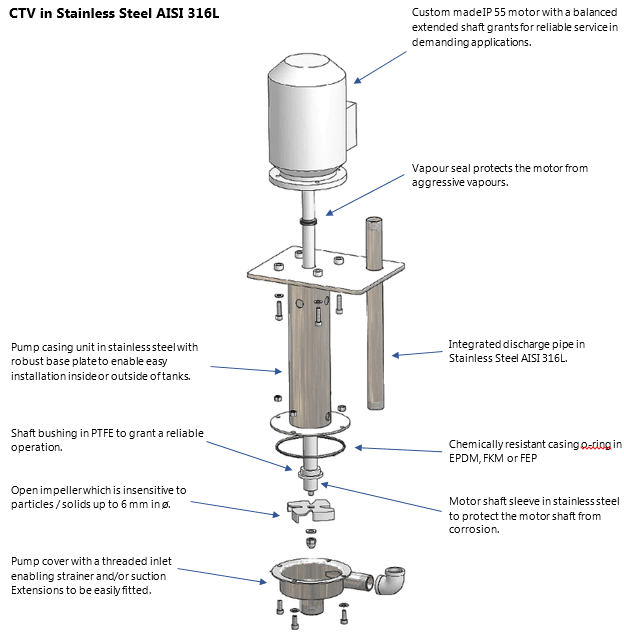 Capacity Range
| | | | | | | |
| --- | --- | --- | --- | --- | --- | --- |
| Pump Size | 20-9 | 25-9.8 | 25-9.8 | 40-12.5 | 40-12.5 | 40-13.5 |
| Max Capacity, m³/hr | 12 | 17 | 17 | 19 | 34 | 20 |
| Max Head, m | 10 | 11 | 11 | 22 | 22 | 31 |
| Motor Power, kW | 0.55 | 0.75 | 1.1 | 1.5 | 2.2 | 2.2 |
| Outlet ø, BSP | ¾" | 1" | 1" | 1½" | 1½" | 1½" |
Technical Information
| | |
| --- | --- |
| Drive Type | Electric |
| Flow Rate | up to 34 m³/hr |
| Pressure | up to 31m |
| Material | Stainless Steel AISI 316L |
| Self-Priming | No |
| Solids Handling | up to 6mm |
| Viscosity | 0-200 cSt |