The Sanitary Diaphragm Pump Series has been specially designed to meet the requirements of the food, beverage, pharmaceutical and cosmetic industries. The pump is FDA approved, ATEX rated, and can feature flap valves for liquids containing large solids or magnetic ball lifters for simple pump draining.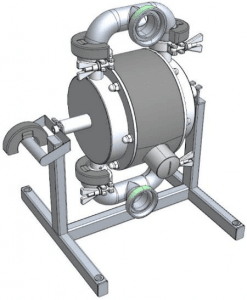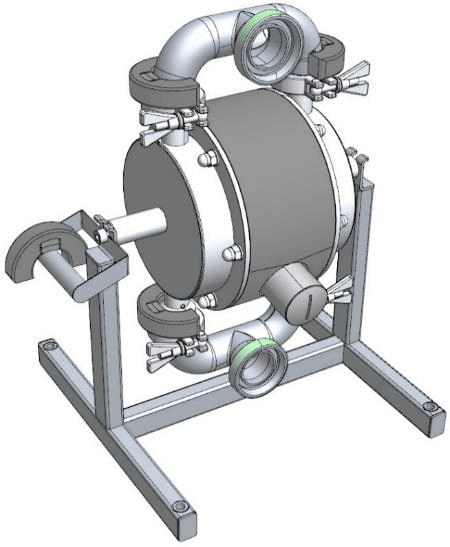 Tapflo's Sanitary Diaphragm Pump is available with our revolutionary Low Energy Air Pump (LEAP) technology which will reduce your operating costs and help your business to meet energy targets. LEAP could save your company up to 70% on energy as these pumps begin operating at a much lower starting pressure than standard AODs on the market (0.2 compared to 1.2). A heating jacket is a great option when the pumped product tends to solidify at lower temperatures e.g. Chocolate or paraffin. When the pump has finished its duty and is left for some time without operation the product can solidify inside.  This is when the heating jacket comes in. Before the next pump start-up, a heating medium like water or steam is into the heating system for a defined period of time to melt the product inside the pump. Only then can the pump be started again with no risk of damage. NOTES: When using steam as the heating agent the flow must be from top to bottom (due to steam condensation). In the case of hot water or other liquid, it is the other way around. Do NOT exceed 2 Bar pressure in the jacket.
FDA certified
Air distribution system is lubricant free
Maintenance-free ball check valve system
Complete visual inspection of the pump's wetted parts
Supports C.I.P. and S.I.P. – cleaning and sterilization in place. The pump can then turn to support drainage.
Easily maintained to keep service costs down
Efficient and easy disassembly
Bacteria cannot grow in any concealed areas
Sanitary Air Operated Double Diaphragm Pumps can be applied to a whole host of industries, including but not limited to:
Looking for more information about Sanitary Pumps, visit TS Pumps'
Sanitary Pump Guide
today for more!