The Sanitary Self-Priming Centrifugal Pump (CPC-ZA) has been specifically designed by Pomac Pumps to work for applications that include trapped air or gas within the product. Their pumps meet the highest hygiene standards making them ideal solutions for industries such as Pharmaceutical, Biotech and Food. The CPC-ZA also features a half-open impeller, to ensure your pump receives maximum efficiency.
What is the CPC-ZA Sanitary Self Priming Centrifugal Pump Series for?
The CPC-ZA Sanitary Self-Priming Centrifugal Pump Series is the Self Priming variant of the CPC series. Due to its self-priming capabilities, it makes it ideally suited for pumping liquids with entrained air and gases and where suction lift is required such as CIP return or Truck Unloading. Like the CPC Series, this range consists of 4 set sizes, CPC 160-210-260-310 with a capacity range up to 300 m³/hr & 9 Bar in 50 Hz and 350 m³/hr & 13 Bar in 60 Hz. All liquid contact parts are manufactured from cast Stainless Steel AISI 316L or AISI 316L Mo Ni or Hastelloy C22 upon request for increased corrosion resistance with a surface roughness of <0.8 as standard (<0.5 on request). The CPC-ZA Sanitary Self Priming Centrifugal Pump is fitted with either open or star impellers, which are dry-mounted to the shaft by means of O-Rings, are also fitted with pressure relief holes to ensure optimal cleaning of the shaft seal and chamber. The O-Rings ensure that there is minimal liquid contact with the shaft whilst cleaning the contact faces at the same time. There are minimal clearances between the impeller and the back casing to ensure high efficiencies and pressures whilst retaining its solids-handling ability up to 10 mm. Units can be supplied close coupled in KAM, KAV & KAC designs with B3 or B5 motors or with pneumatic, diesel driven or hydraulic motors in their IG & IGH forms. Various Mechanical Sealing & O-Ring options, as well as drain connections and heating jackets, are also available on request.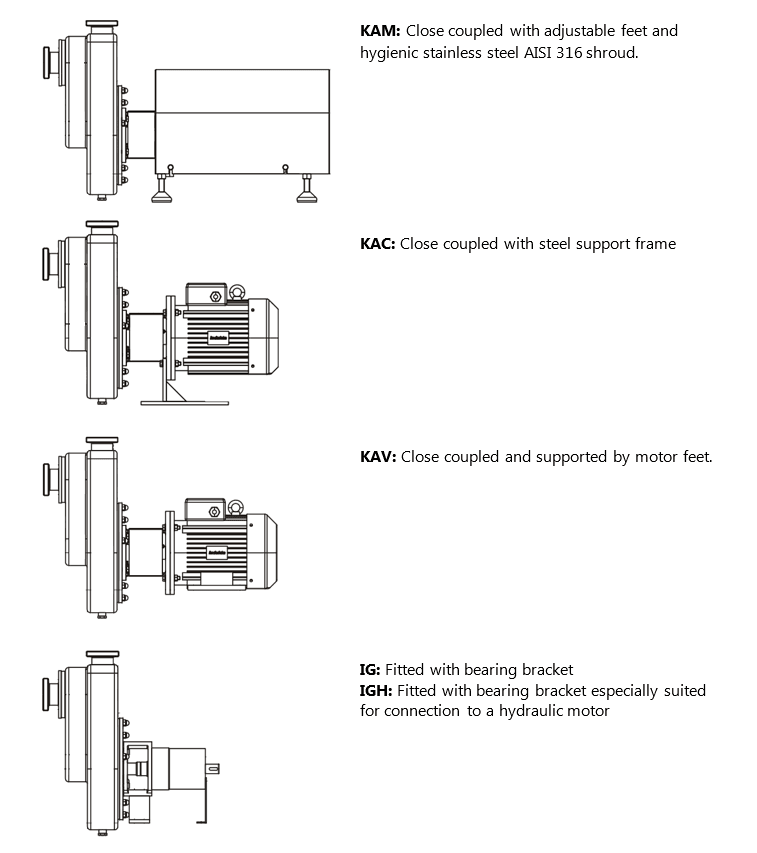 Technical Information
Surface Roughness
<0.8 standard, <0.5 on request
Maximum Capacity
350 m³/hr
Maximum Pressure
13 Bar
Maximum Viscosity
500 cPs
Maximum Temperature
150 ºC
Maximum Suction Lift
6m
Maximum Solids Passage
10mm
Materials
Cast Stainless Steel AISI 316L, AISI 316L Mo Ni, Hastelloy C22
If you have further questions, our Pump Specialists will have the answer.
Please don't hesitate to get in touch:
01928 333 400
[email protected]