Low flow Peristaltic Pumps have been designed with a roller system that achieves pressures up to 4 Bar. The simplicity and robust principle associated with our range of Peristaltic Pumps is enhanced with the PTL series, to provide the end-user with a reliable, accurate and lubricant-free unit, perfectly suited for lower flow and pressure metering applications. The highly robust and reliable Low Flow Peristaltic Pump. It's the perfect option for low-pressure applications under 4 Bar.
Optional Executions & Extras
Twin headed – 2 pump heads fixed to the same gearbox.
Various connection options such as SMS, Clamp, DIN, ANSI, coupling and cover.
Hose rupture detector and revolution counter with a digital display or pulsed output
ATEX II & I certification
Variable Speed with mechanical or electronic speed variation or variable speed drive with forced ventilation (1 – 100 Hz) or without (15 – 100 Hz)
Trolley mounted.
Benefits of a Low Flow Peristaltic Pump
Able to handle high viscosity fluids
Gently handles fluids to avoid frothing when pumped
Continuous dry running
Easy maintenance and low maintenance costs
Low cost of ownership
Low operating noise
Can be ATEX Rated
Self-priming
Construction – PTL Series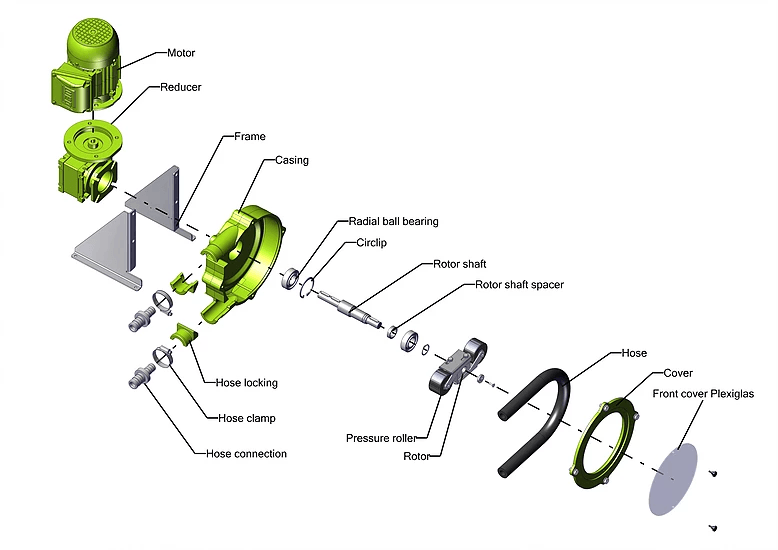 In sizes PTL 09–25, the rotor is supported by oversized ball bearings located within the pump casing. In sizes PTL 30–45, the rotor is supported by the heavy-duty bearings of the flanged drive unit. Pump Casing & Rotor are manufactured from Aluminium Alloy. Pressure Rollers are manufactured from either Plastic or Light Alloy, depending on the pump size.