Metal Low Energy Air Pump
Leading the revolution in energy saving is LEAP®. Also known as the Low Energy Air Pump, it was designed in response to a customer needing to pump ammonia solution at 4LPM at 40 Bar. Utilising the technology from a Hydraulically Operated Double Diaphragm pump, this was transferred into a pneumatic pump resulting in the birth of LEAP®. Lower energy usage is achieved by successfully reducing air consumption within the pump from the industry standard 1.2 bar to 0.2 bar, this is done by controlling the airflow through the pump in a way different to your typical pump. This has been achieved by decreasing friction and internal losses often associated with Air Operated Diaphragm pumps, LEAP can reduce the operating air pressure and therefore, lower energy usage. An air valve was developed specifically to be used with the LEAP® technology which has an improved life expectancy, upwards of 200 million cycles! Materials: Metal Series – Aluminium, Cast Iron, PE & PTFE, Stainless Steel AISI 316L Plastic Series – PE & PTFE
Available on the complete range of Tapflo Air Operated Diaphragm Pumps
Retro-fittable Switching to low energy technology is as simple as switching the centre section of your Tapflo Diaphragm Pump to a LEAP centre section. This is also applicable to several of our competitors' pumps.
Ultra-Low starting pressure 0.2 Bar (3psi)
Reduced energy consumption saving up to 70% using our Low Energy Diaphragm Pump
 Impossible to stall (mid-port)
24vdc starting signal (2.3w/1w) & Dry contact (VFC) feedback on completed strokes – provides control & feedback to the operator for preventive maintenance as well as performance monitoring such as:
Batch dispensing: Simply counting the strokes of the diaphragms and stopping the pump after the required volume has been dispensed.
Dry Running: By analysing the frequency of the pulses you can monitor whether the pump is dry running or not. When the pump starts to dry run the frequency of the pulses will increase.
Dead Heading: When the frequency of the pulses slows down or stops this means that the pump has deadheaded, indicating closed valve operation or a blockage in the pipework.
Flow Monitoring: Counting the frequency of the pulses can also be used to monitor the flow rate of the media in the process. The diaphragms displace a set amount per stroke therefore by multiplying the strokes by the volume displaced per stroke provides an accurate indication of flow. Or indeed, in the case of one of our customers, wiring in a coreolis flow meter with pulse feedback into their system to provide real-time monitoring of flow to within an even greater degree of accuracy. Coreolis Flow Meters are NEVER used with diaphragm pumps as they are susceptible to pulsing flow. This is testament to the ability of the LEAP Pump to reduce the pulsing effect usually associated with traditional diaphragm pumps.
Easy to maintain – Air Valve can be replaced in under 2 minutes, pump disassembly isn't required!
Reduced pulsation – negates the need for a pulsation dampener in many instances!
EP Mode for high-pressure applications and start control: As standard, the unit is supplied with an internal pilot signal, however, should the unit be required to be used in a high-pressure application, in excess of 10 bar, i.e. Filter Press applications, the unit can be easily modified to use a lower pressure external pilot.
One seal design – reduced frictional losses
Noise reduction – lower air pressures reduces the noise of the pump
Control simplification – No need for an external pneumatic solenoid valve, reducing costs and simplifying control
Improved Life of main Air Valve: Tapflo have developed their own air valve for use with the LEAP technology using a lapped spool and sleeve construction. This provides a life expectancy in excess of 200 million cycles!
echnical Information
| | |
| --- | --- |
| Drive Type | Electric, Pneumatic |
| Flow Rate | up to 820 l/min |
| Pressure | up to 16 Bar |
| Material | Aluminium, Cast Iron, PE & PTFE, Stainless Steel AISI 316L |
| Self-Priming | Yes |
| Solids Handling | up to 100mm |
| Viscosity | 0-200+ cSt |
70% Energy Saving
Reducing air consumption to save your company money
The graph below shows fluid flow against the air pressure required when comparing a standard Air-Operated Diaphragm Pump against Tapflo's Low Energy Air Pump (LEAP). As you can see, at 0.5 bar air pressure, the LEAP pump was able to produce approx. 27.5 l/min whereas the standard pump didn't even start operating until it was supplied with 1.1 bar air pressure, and only produced 5 l/min. This demonstrates that standard Air-Operated Diaphragm Pumps require a lot of energy to simply overcome the resistance within the pump. The energy required to do this is a direct correlation to the pressure you have to put in. By reducing the air pressure required to operate you can significantly reduce the operating costs of the pump. To put this into monetary terms,  Tapflo customer required a 2" pump to run continuously for 5 days a week, 48 weeks/year, producing 150 l/min @ 1 Bar operating pressure. Based on the British Compressed Air Society figures of between £0.01 to £0.03 to produce 1000 Litres of compressed air, a standard pump would cost an average of £1843.20 / year. By converting to the LEAP technology, the customer would save £652.64 / year per pump!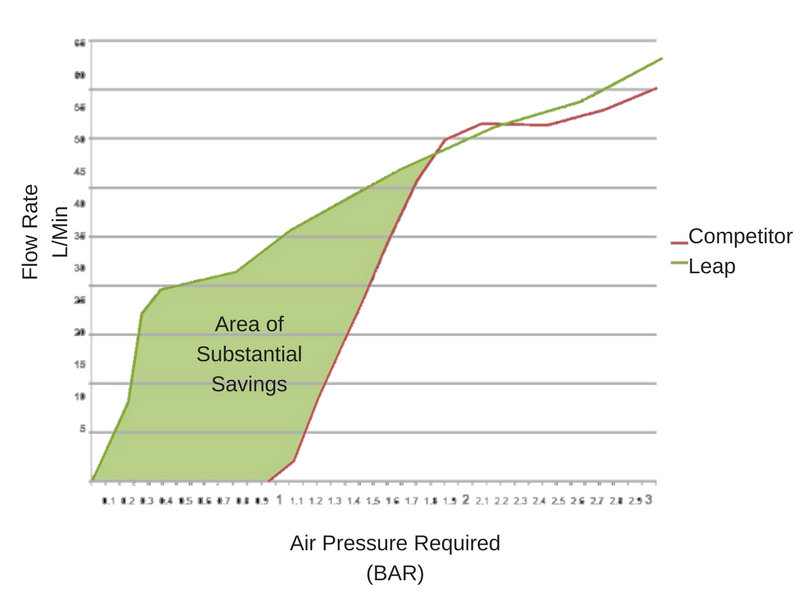 Graph showing fluid flow against air pressure required for a Diaphragm Pump