The pump is extremely versatile as it can be supplied with a variety of build options to suit a range of installations and applications. This includes altering the application of the pump from transferring liquids between tanks to being used for tank cleaning and boosting pressure. The pump is supplied with either an open (6mm solids passage) or semi-open impeller. Available in 2 capacity ranges, either 2 pole motors for high head applications or 4 poles for low head applications.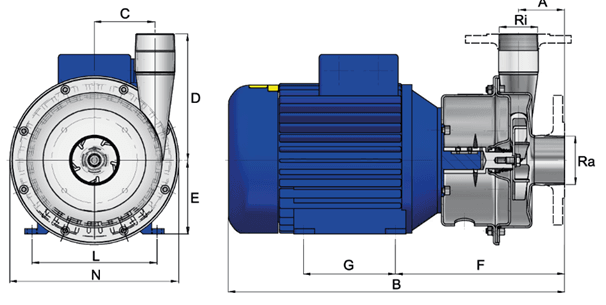 How does an Industrial Centrifugal Pump work?
The Industrial Centrifugal Pump will need to be primed before it is available to be used, this is achieved by filling the pump with liquid. The pump also requires a positive suction head for the pump to operate efficiently. When the pump is started the liquid moves into the pump casing where it meets the impeller. The impeller rotates to create the force that powers the liquid through the pump casing and into the discharge pipe. As the impeller forces the fluid through the pump casing, it generates a low-pressure point which then draws in fluid from the suction side of the pump. This continues the pump operation of transferring liquid through the pump casing.
Benefits of using an Industrial Centrifugal Pump
Easily maintained and quick troubleshooting means short downtime and low maintenance costs
Robust & Versatile Pump
It offers high mechanical and corrosion resistance for a plethora of applications at competitive pricing. The CTI Industrial Centrifugal Pump End Suction, Close Coupled, Single Stage Centrifugal Pumps feature either an Open (6 mm Solids Passage) or Semi-Open Impeller and are manufactured from Glass Blasted Stainless Steel AISI 316L to offer high mechanical and corrosion resistance for a plethora of applications at competitive pricing. The pump can also be ATEX certified on request. The CTI Pump is available as a long-coupled design which allows the pump to handle higher temperatures. Typically the CTI Pump can handle fluids that are a maximum of 90°C, when manufactured with the long-coupled design, the pump can handle up to 180°C.
Typical applications for the Industrial Centrifugal Pump
The CTI Industrial Centrifugal Pump Range is suitable for a wide variety of applications:
Water transfer
Mild Chemicals
Solvents
Oils
Collants
Detergents
Fluids with partial solids for filtering purposes
Diesel, Petrol & Kerosene
Technical Information
Flow Rate
Up to 60 m³/hr
Pressure
Up to 47m
Solids Handling
Up to 6mm
Viscosity
Up to 200 cSt
Temperature
Up to 90°C, for long coupled pumps this is up to 180°C
Materials
Glass blasted Stainless Steel AISI 316L
If you have further questions, our Pump Specialists will have the answer.
Please don't hesitate to get in touch:
01928 333 400
[email protected]