The CTH Hygienic Centrifugal Pump range is suitable for a wide variety of applications within the food, beverage and pharmaceutical industries at competitive pricing and quick lead times. The Hygienic End Suction, Close Coupled, Single Stage Centrifugal Pumps feature either an Open (6 mm Solids Passage) or Semi-Open Impeller and are manufactured from Stainless steel AISI 316L, electro polished to Ra <0.8, to offer high mechanical and corrosion resistance for a plethora of hygienic applications at competitive pricing.
Long-Coupled Hygienic Centrifugal Pump
The CTH Pump is available with a long-coupled design. Typically the close-coupled design can handle fluids up to 90°C but with the long-coupled design, liquids with a higher temperature, up to 180°C can be pumped. We also recommend this design when handling highly flammable fluids or when the pump will be installed in a harsh ATEX zone. Installing a long-coupled design protects the motor if the mechanical seal fails, there is the possibility that if you were handling flammable liquids with a close-coupled pump, that a leak could cause a spark and be extremely hazardous.
Ealing options for our Hygienic Self Priming Centrifugal Pump 
Standard Single Mechanical Seals 
are provided with a range of face materials, Ceramic / Graphite / SiC and O-Rings are available in EPDM / FKM / FFKM or FEP or alternatively the seal can be provided with an OP-Ring (Square O-Ring). This increases the friction between the O-Ring and the back casing and therefore lowering the chances of the static parts of the seal from sticking together.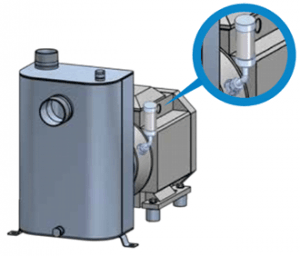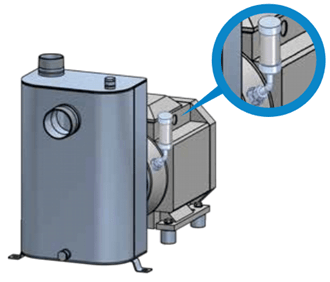 Lubricated & Externally Quenched Mechanical Seals
 can also be provided upon request and are ideally used when there is the potential for dry running or where there is a chance for the product to solidify or crystalize. An Oil Pot is connected to the seal chamber and continually lubricates seal during operation.  SAE grade 20 Oil is recommended however you must use a fluid compatible with the pumped medium and materials within the pump. As an alternative, the CTHs can be supplied with ports to facilitate an external quench system. This provides the added benefit of removing heat build-up from the seal face and doesn't require changing of the lubricating fluid. The max pressure of the quench circuit is 0.5 bar and it is recommended to install a thermo-syphon circulation into the quench circuit.
Applications of a Hygienic Self Priming Centrifugal Pump
Offloading or transferring of:
edible oil
alcohol
juice
dairy products
The Hygienic Self Priming Centrifugal Pump can also be used for industrial applications such as:
CIP Fluid
Water
Detergent
This is not only limited to transferring fluids from tank to tank, the pump is also ideal for tank cleaning, batching & metering, dispensing, loading & offloading, and pressure boosting.
If you have further questions, our Pump Specialists will have the answer.
Please don't hesitate to get in touch:
01928 333 400
[email protected]