What are Frequency Inverters for?
Frequency Inverters allow you to control the speed and power of the electric motor in your pump by altering the voltage and magnitude. The ACS355 series, manufactured by ABB (market leader in the drive systems market), is of the highest quality with great functionality and available in 2 different standards.
Loose – to be installed by the customer
Pre-Installed in a cabinet including control system & calibrated
Frequency Inverter Options
Options available on request
High Protection Class (IP66/NEMA 4X) with additional options:
Cable Gland Kit (IP69k according to DIN 40050-9)
Built-in Lockable On / Off / Isolation Switch
Pressure Compensation Valve
Fieldbus Modules
Modbus RTU
Modbus TCP / IP
Profibus DP
Extension Modules
Encoder Feedback Module
Relay Outputs Module
Auxiliary 24V DC Power Module
Loose Supply Product Coding
ACS355T
003
Frequency Inverter Series (ACS355T as standard)
Motor Power
003 = 0.37 kW 220 = 22.0 kW Example: ACS355T-003 is a standard frequency inverter for a 0.37 kW/3 Phase motor Note: Frequency Inverters for higher motor powers are available on request.
Control Cabinets with built-in Frequency Inverters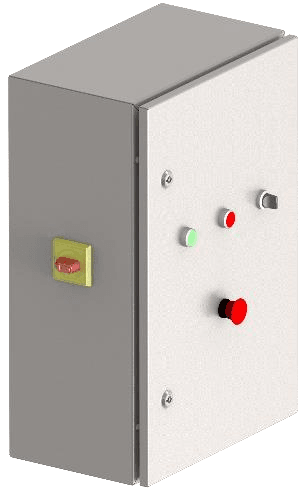 Cabinet made of Stainless Steel (ground AISI 304) or painted Carbon Steel (RAL 7035)
Cable Glands made of Stainless Steel or Polyamide
ACS355T Frequency Inverter Included
Mains Isolation Switch – Lockable in OFF position for servicing purposes
Miniature Circuit Breaker protecting the supply lines
Start / Stop Push Buttons & Potentiometer to control motor speed
Emergency Stop Push Button connected to Safe Torque-Off Inputs
Thermistor Connection (Optional)
Inverter Configuration according to customer guidelines
Product Coding
 CPS – AC355T – 003 – PTC1 2 3 4
Cabinet Version:
CPS – Stainless Steel Cabinet w/ Stainless Steel Cable Glands CPI – Painted Steel Cabinet w/ Polyamide Cable Glands
Frequency Inverter Series
Motor Power:
003 = 0.37 kW 220 = 22.0 kW
Options:
Blank – No options PTC – PTC Connection option
If you have further questions, our Pump Specialists will have the answer.
Please don't hesitate to get in touch:
01928 333 400
[email protected]