The CPC Series of Sanitary Centrifugal Pumps is designed specifically for use within the food and pharmaceutical industries with a heavy emphasis on robust design, optimal cleanability, efficiency, low maintenance costs and simple maintenance. The range consists of 4 set sizes, CPC 160-210-260-310 with a capacity range up to 400m/hr and 9 Bar in 50 Hz and 500m/hr and 13 Bar in 60 Hz and standard and 40 Bar for the CPC-HD units for high-pressure applications such as pressure boosting or reverse osmosis. All liquid contact parts are in compliance with EHEDG standards and manufactured from cast Stainless Steel AISI 316L or AISI 316L Mo+Ni or Hastelloy C22 upon request for increased corrosion resistance with a surface roughness of 0.8 as standard (0.5 on request). The open or star impellers, which are dry-mounted to the shaft by means of O-Rings, are also fitted with pressure relief holes to ensure optimal cleaning of the shaft seal and chamber. The O-Rings ensure that there is minimal liquid contact with the shaft whilst cleaning the contact faces at the same time. There is minimal clearances between the impeller and the back casing to ensure high efficiencies and pressures whilst retaining its solids-handling ability up to 10 mm. Units can be supplied close coupled in KAM, KAV & KAC designs with B3 or B5 motors or with pneumatic, diesel driven or hydraulic motors in their IG & IGH forms. Various Mechanical Sealing & O-Ring options, as well as drain connections and heating jackets, are also available on request.
Mechanical Seal
All mechanical seals are specifically designed for use with the CPC range according to DIN 24960 and are fitted with EHEDG / FDA compliant O-Rings. They feature a 2 pin construction so that they rotate with the impeller. They are available in the following material combinations:
Carbon to CrMo-steel
Carbon to silicon carbide
Carbon to ceramic
Hard metal to hard metal
Silicon carbide top silicon carbide
Tungsten carbide to tungsten carbide
Balanced Stub Shaft Design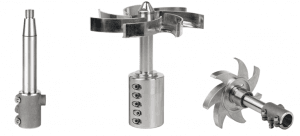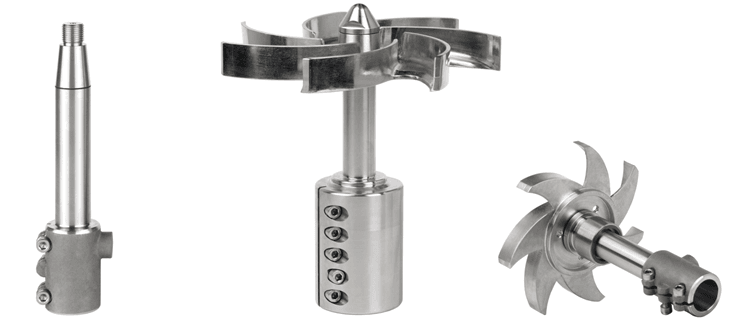 All CPC-ZA Sanitary Self Priming Centrifugal Pumps are fitted with a balanced stub shaft design with features a conical shaft end without keyway and dry mount EHEDG / FDA compliant O-Rings. Grub screw attachment to the motor shaft enables easy assembly and disassembly during maintenance procedures. When mounted, the open impeller has pressure relief holes to ensure optimum efficiency and cleaning of the mechanical seal which is attached to the impeller via its 2 pin construction.
High-Pressure Casing
The cast stainless steel AISI 316L, machined from a solid block, the casing can withstand system pressures up to 25 bar as standard and 40 bar upon request (CPC-HD). It has also been machined to provide optimal cleanliness by eliminating any dead space areas for the bacterial build-up to be in line with EHEDG standards. All models can be fitted with an optional heating jacket to maintain fluid temperature whilst being pumped and is generally used when transferring for higher viscosity edible oils.
Applications of a Sanitary Centrifugal Pump
Pump Design Variants
| | |
| --- | --- |
| CPC-IL | Stainless Steel Sanitary, designed with In-Line connections. Pump can be installed directly into the pipework. |
| CPC-WW | Stainless Steel for whey curds, designed with tangential outlet. Maximum operational speed of 1000rpm. |
| CPC-T | Stainless Steel Sanitary, designed with radial outlet. |
| CPC-ZA | Self-Priming, not EHEDG certified but sanitary in construction. ATEX rated. |
Technical Information
Technical Information
Maximum Capacity
500 m³/hr
Maximum Pressure
Up to 40 Bar (CPC-HD)
Maximum Viscosity
500 cPs
Maximum Temperature
Up to 150ºC
Maximum Solids Passage
10 mm
Surface Roughness
<0.8 standard, <0.5 upon request
Materials
EHEDG compliant, stainless steel AISI 316L, Hastelloy C22 or AISI 316L Mo Ni
Performance Curves
Capacity Ranges for CPC 50Hz: 1500-3000