Varying from the standard centrifugal pumping mechanism, Magnetically Driven Centrifugal Pumps are designed so that the motor is coupled to the pump by magnets, instead of a direct mechanical shaft. The drive magnet works the pump, 'driving' the pump rotor, which is magnetically coupled to the primary shaft driven by the motor. Magnetic Pumps are used in industries where leakage of the agent being pumped could cause damage, such as in the chemical or nuclear industries where hazardous fluids are typically present. The Centrifugal Pumps are Magnetical Driven End Suction, Close Coupled, Single Stage Centrifugal Pumps feature a Semi-Open or Closed Impeller and are manufactured from either Glass Fibre Reinforced Polypropylene or PVDF to offer high mechanical and corrosion resistance for a plethora of applications at competitive pricing.
The CTM Mag Drive Centrifugal Pump is a close-coupled compact pump ideal for service in little spaces like in OEM installations. Benefits include:
Reliable design
Efficient operating
No mechanical seal problems
Safe handling of hazardous fluids
Hermetic System
The wetted components are non-metallic injection moulded thermoplastics enabling excellent corrosion resistance.
Magnet Cage System
The magnets are totally encapsulated in their cage with a unique system that avoids the use of resins and glue. This grants a safe system with better performance at high temperatures. Furthermore, the impeller is injection moulded, resulting in excellent performance and no weak points.
Applications
The CTM Centrifugal Pumps range is perfectly suited for a wide variety of applications for clean & thin liquids like pure chemicals, acids & alkalis. It is especially useful for chemically corrosive and toxic liquids.
| | |
| --- | --- |
| Industry | Example of application |
| Chemical stockists |  Transfer of various chemicals from storage tanks to smaller containers |
| Surface treatment |  Transfer, filtering and circulation of surface treatment baths |
| Food and beverage |  Pumping of CIP detergent used for cleaning of pipes and other food     process equipment |
| Water treatment |  Dosing of acids and alkalis used as cleaning chemicals in Nanofiltration |
| Chemical manufacture |  Pumping of chemicals in industrial detergent equipment |
| Demineralizing |  Demi-water circulation and transfer in many industrial applications |
| Photo processing |  Transfer of photo develop chemicals and inclusion in processing machines |
| Liquid crystal manufacture |  Pumping of concentrated acids and alkalis |
Materials Data & Limits
| | |
| --- | --- |
| Casing & Isolation Shell | PP-GF (30%) or PVDF |
| Impeller | PP or PVDF |
| Lantern (Not Wetted) | PP-GF (30%) |
| Static Bushings | Ceramic (Std.) or SiC |
| Rotating Bushings | PTFE-Graphite (Std.) or SiC |
| O-Rings | FKM, EPDM, FFKM, FEP / Silicon |
| Magnets | NdFeB |
| Motor | IEC standard, 3×400 VAC (other on request), 2900 rpm, IP55, B34 frame, IE3 |
| Pressure Ratings | CTM20:   PP pumps: PN4 at 20°C, PN2 at 70°C PVDF pumps: PN4 at 20°C, PN2 at 80°C   CTM25, CTM32, CTM40 and CTM50:   PP pumps: PN6 at 20°C; PN2 at 70°C PVDF pumps: PN6 at 20°C; PN2 at 90°C |
| Temperature Ranges | PP Pumps: 0-70ºC PVDF Pumps: 0-80ºC (CTM 20) / 0-90ºC (CTM25 – 50) |
| Kinematic Viscosity | 200 cSt (max) |
| Dynamic Viscosity | 10 cP (max) |
Capacity Range
Tapflo's Mag Drive Centrifugal Pump range is suitable for almost any application due to the wide flow and pressure ranges that these pumps can achieve.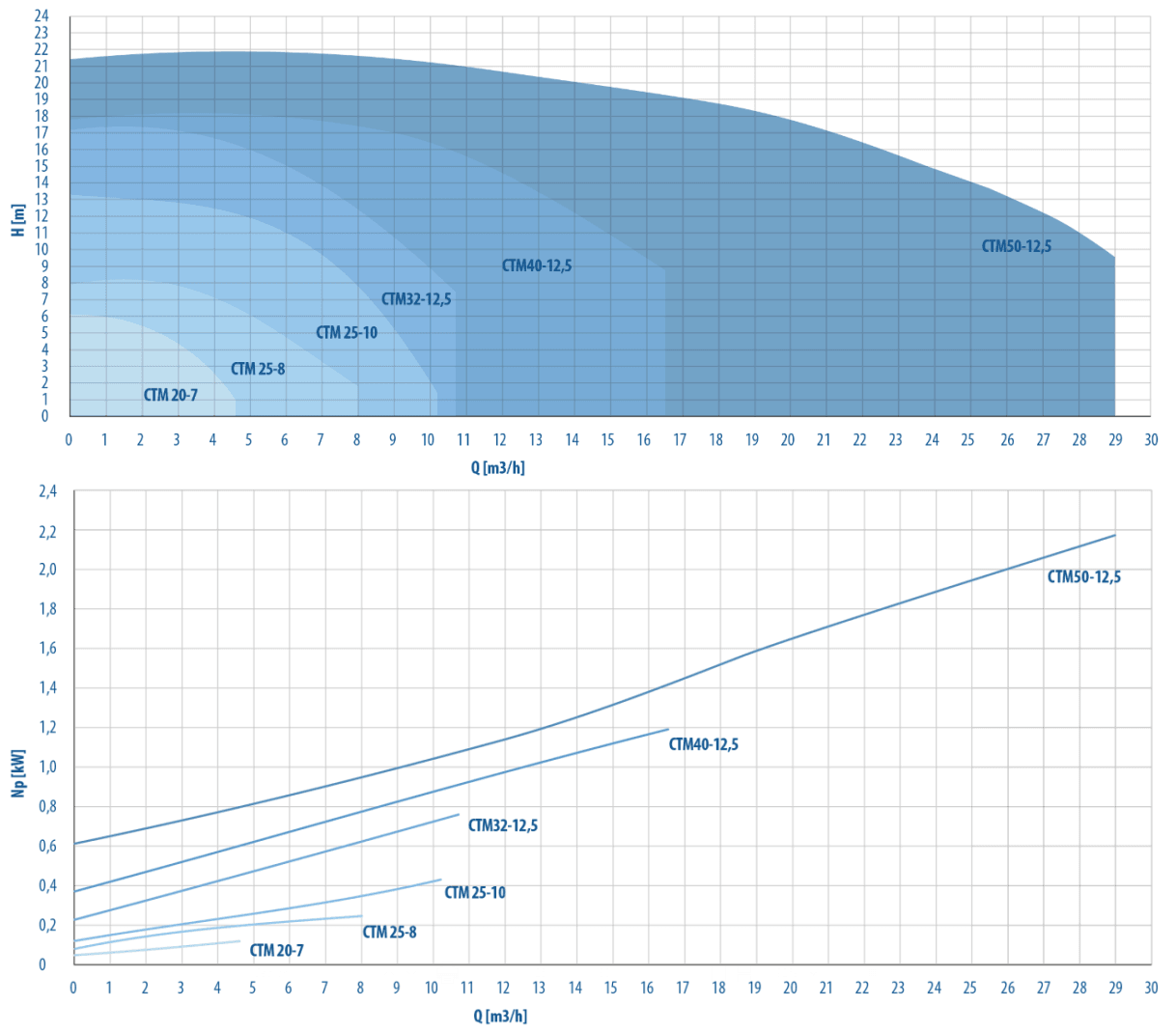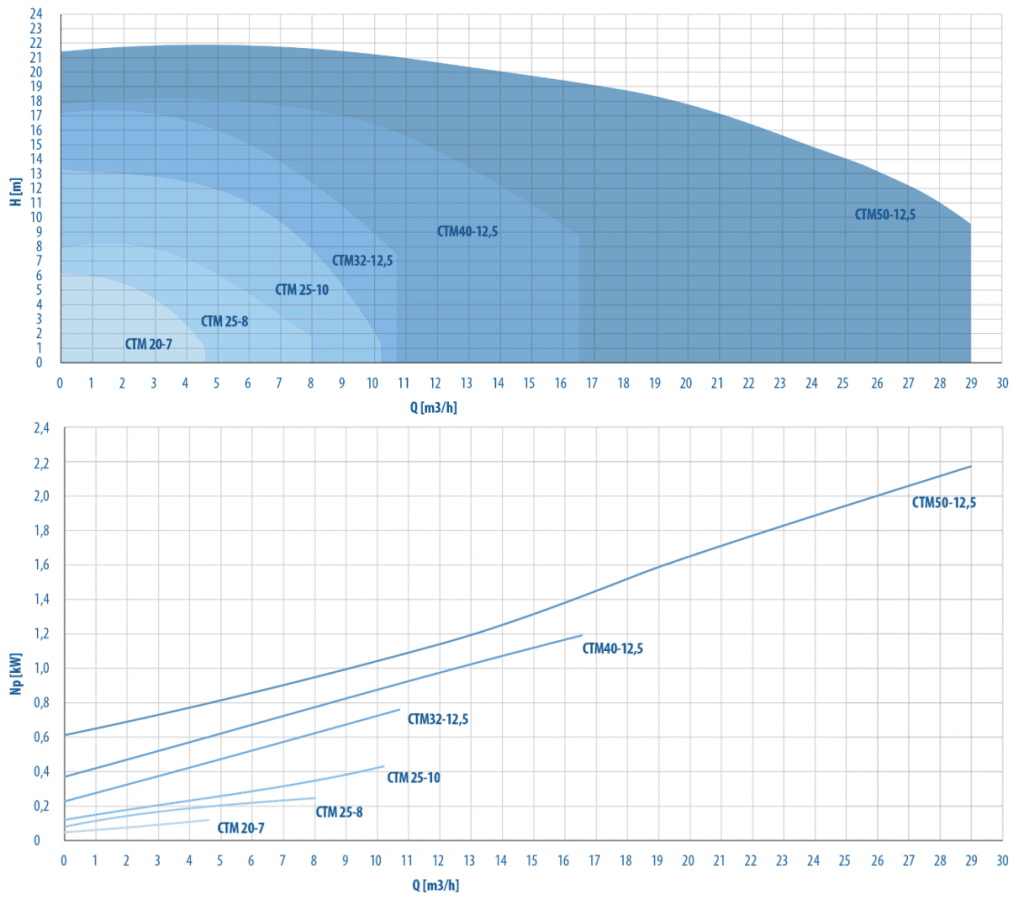 Performance Curves
CTM 20-7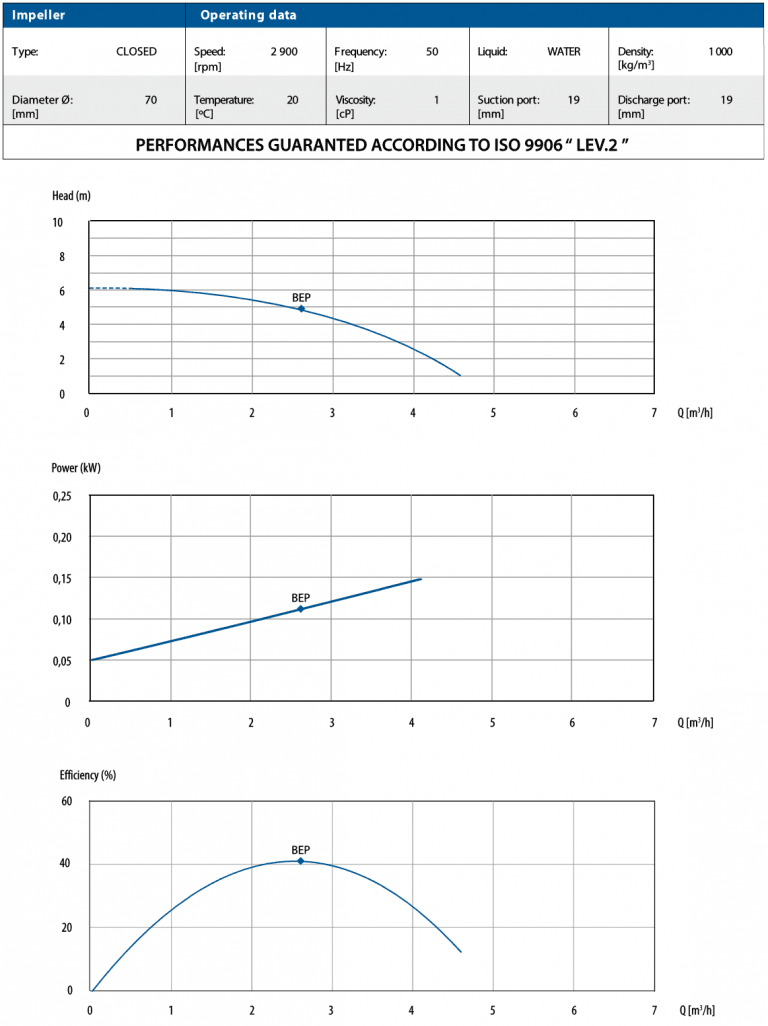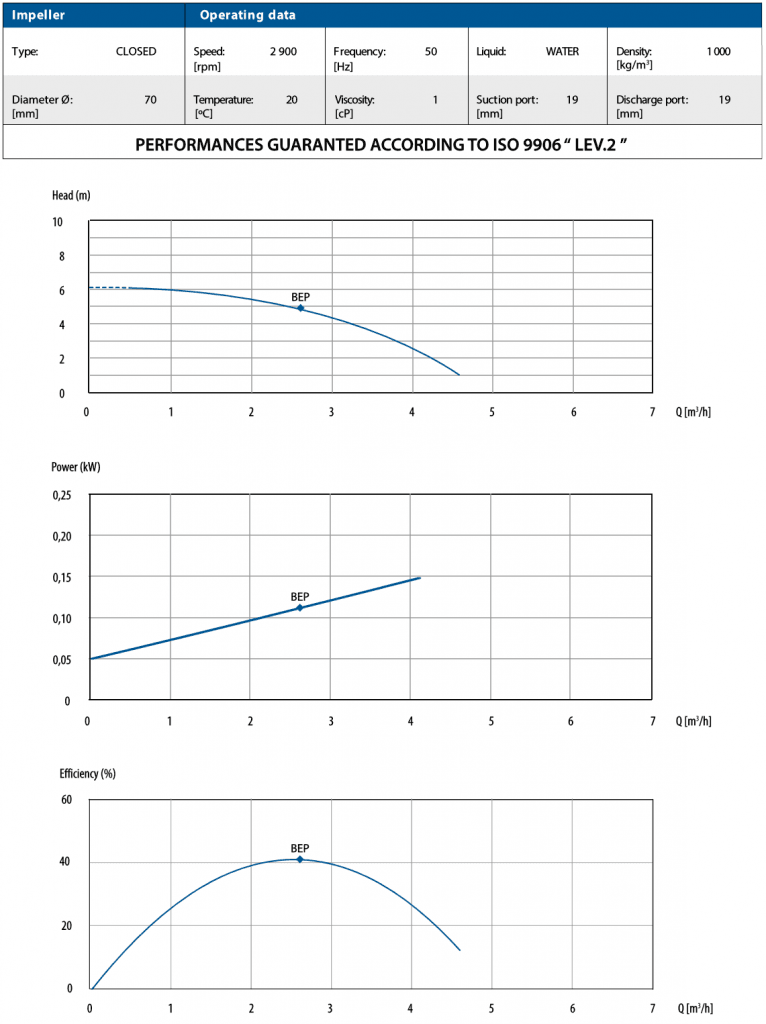 CTM 25-8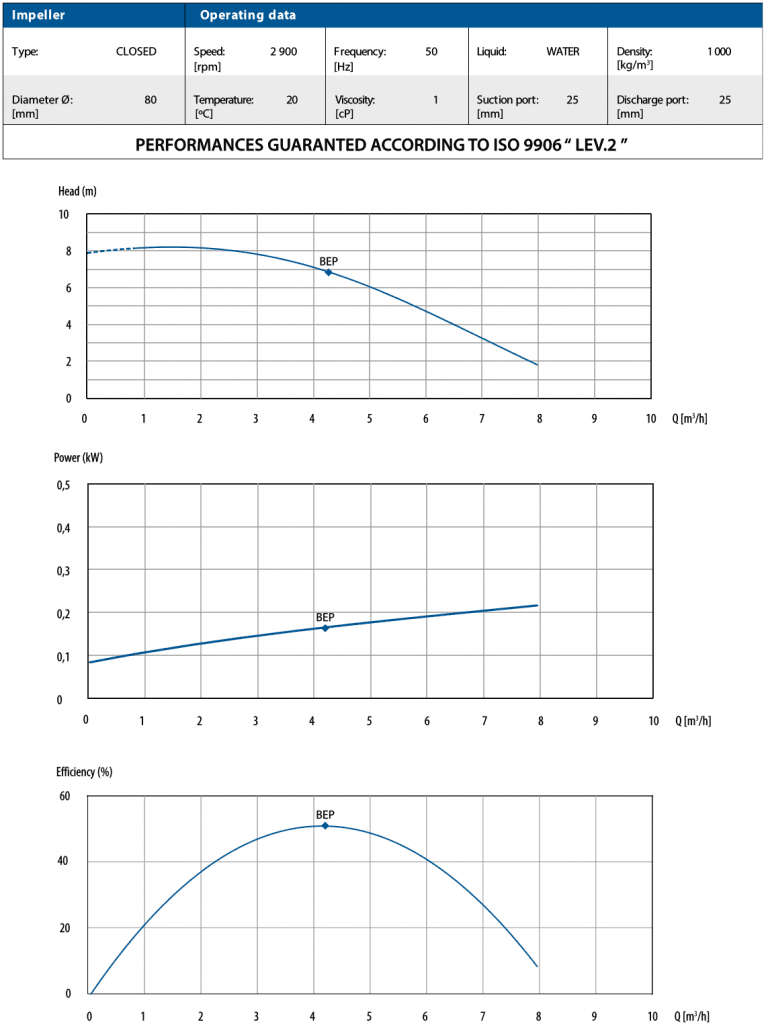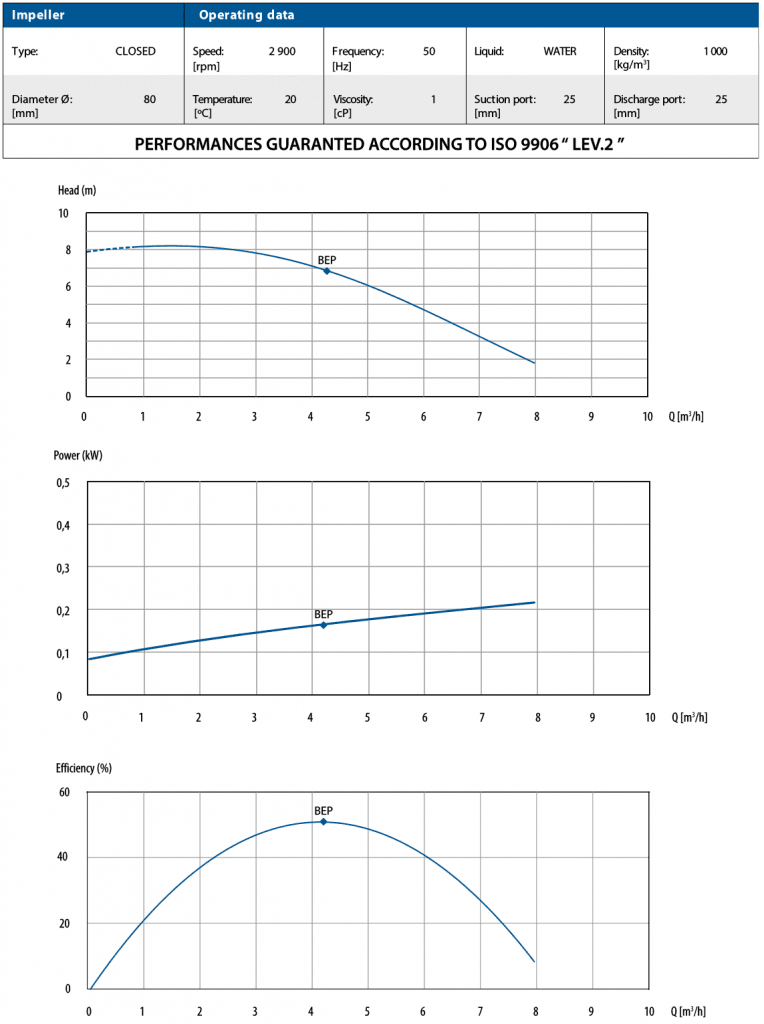 CTM 25-10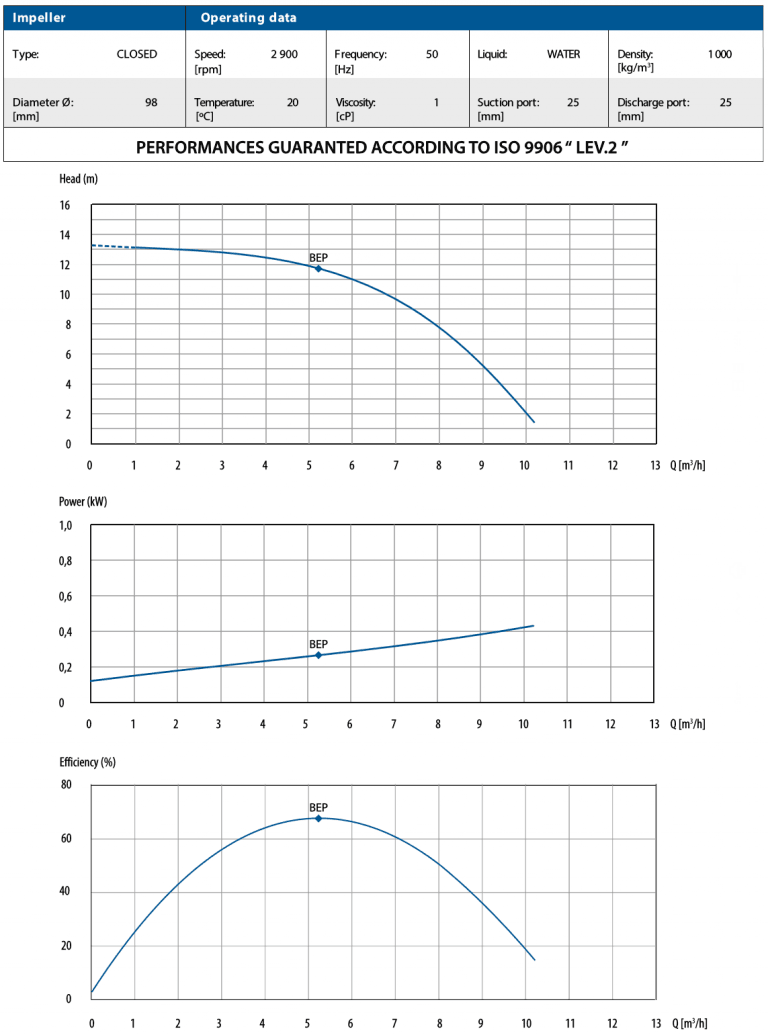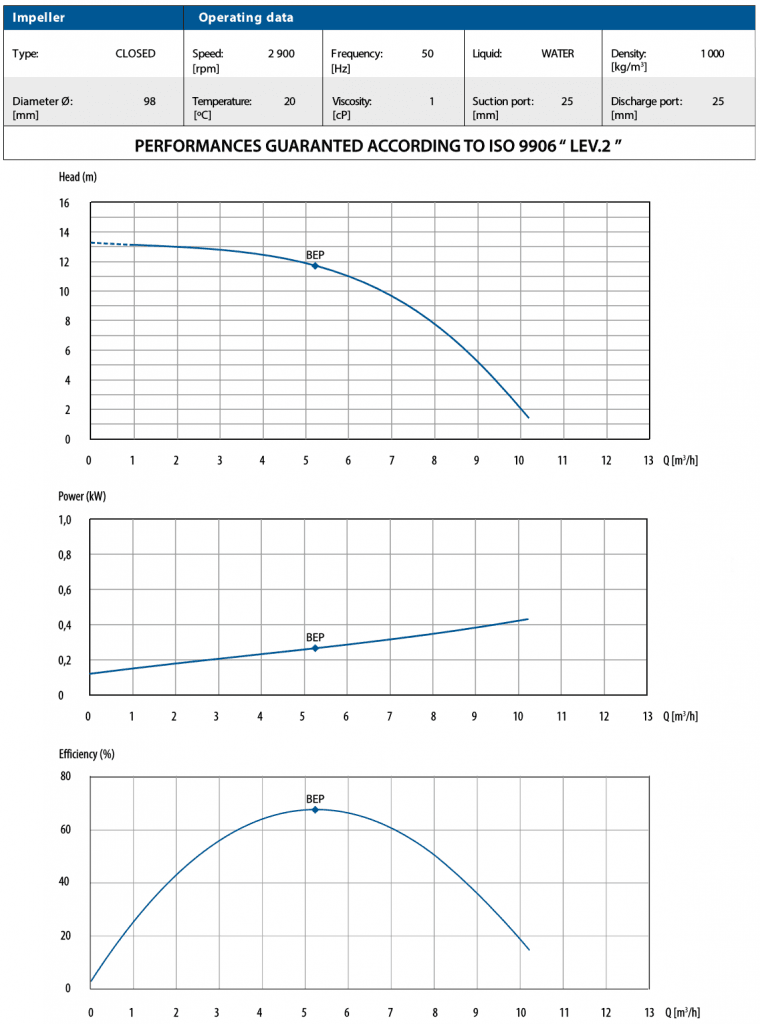 CTM 32-12.5