Your existing Air Operated Double Diaphragm Pump can be easily altered to become a Filter Press Pump. As a standard, the booster is equipped with a pressure regulator and two manometers. In comparison to a standard pump, our TF version is equipped with reinforcement plates and a special air valve with PET piston. We also recommend using an aluminium centre body instead of the standard PP for better durability. This HDPE/PTFE Filter Press Pump station is self-regulating and no additional device for regulating the capacity is necessary. It is, therefore, a plug and play solution, mounts it to the Filter Press. Connect the air and fluid pipework, away you go! For monitoring the filling level of the Filter Press, stroke sensors, stroke counters & flow meters are available. Installation Example:

Scope of Supply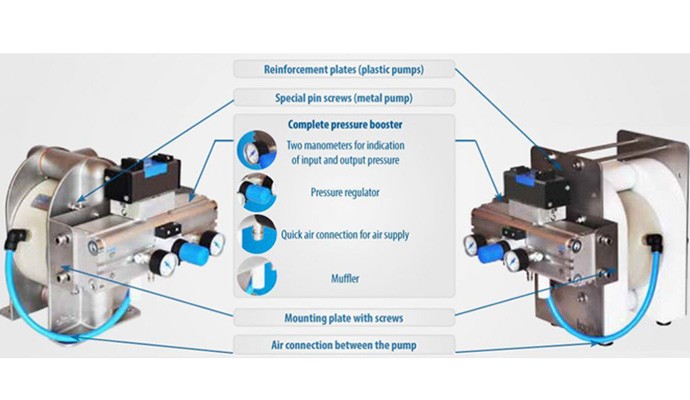 Turn your Tapflo AODD Pump into a TF Filter Pump
Turn your existing Tapflo Air Operated Double Diaphragm Pump into a TF Filter Press Pump by purchasing the following parts:
1 x Long Reinforcement Plate
1 x Short Reinforcement Plate
1 x Booster Mounting Plate
2 x Pin Screws
1 x Booster Complete Set
Technical Information
Delivery Pressure
Up to 14 Bar
Discharge
Up to 16 Bar – when amplified by a booster
Materials
HDPE & PTFE, we recommend an Aluminium centre body to improve durability
If you have further questions, our Pump Specialists will have the answer.
Please don't hesitate to get in touch:
01928 333 400
[email protected]