The Batch Controller allows a batch amount and batch time to be programmed into it which automatically stops the pump when the fixed batch time has passed. This means that the volume of product being distributed by the pump at any one time is easily controlled. The controller counts and registers the pump strokes through the air exhaust of the Diaphragm Pump, once the pre-set number of strokes has been registered, the pump will stop operating. The Pneumatic Batch Controller can prevent unauthorised adjustments to the batch amount and time by being supplied with an internal mounted control.
TPUK-BP
Predetermining Batch Control
The system records the number of strokes generated by the pump as a series of low-pressure pulses from the air exhaust of the pump. The pump is stopped once a number of pre-set strokes have been achieved, thus controlling the volume of product dispensed by the pump. Volumes generated per stroke can be found within the technical data sheets of the pump in question.
TPUK-BT
Timed Batch Control
The pump can be started locally or remotely, stopping automatically once the set time has elapsed, thus controlling the volume of product dispensed by the pump.
Times Ranges
| | | | |
| --- | --- | --- | --- |
| Model | Time Range | Repeat Accuracy | Setting Accuracy |
| TPUK-BT*-030S | 2-30 Seconds | /-0.3 Seconds | /-0.6 Seconds |
| TPUK-BT*-120S | 8-120 Seconds | /-1.2 Seconds | /-2.4 Seconds |
| TPUK-BT*-300S | 20-300 Seconds | /-3.0 Seconds | /-6.0 Seconds |
If the batch controllers are installed in a system which has a positive suction head or the pump is below the fluid level there is a chance that siphoning may occur which can cause inconsistent batch sizes. Simply install one of our Non-Return Valves with a cracking pressure greater than the head pressure to prevent this. The batch controllers can be installed a maximum of 20 m away from the pump and can also be linked with either manual or electronic Remote Start / Stop Remote Station which can also be mounted 20 m away from the batch controller and controlled by a PLC for example.
ATEX Batch Controller Features
New features and improvements for the TPUK-BP-ATEX compared to the previous design:
Temperature class T4 (135°C)
The enclosure is made from electrically conductive GRP
Earthing point for dissipation of electrostatic charge – must be permanently connected
IP66 Rated enclosure and inspection window covering the counter to enable use in washdown environments and chemical environments
Improved connection sealing via O-Rings to prevent ingress
Anti-tamper function through screwed locks on the inspection window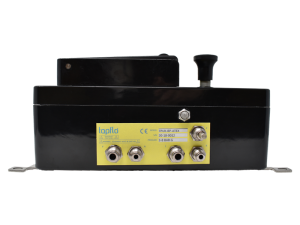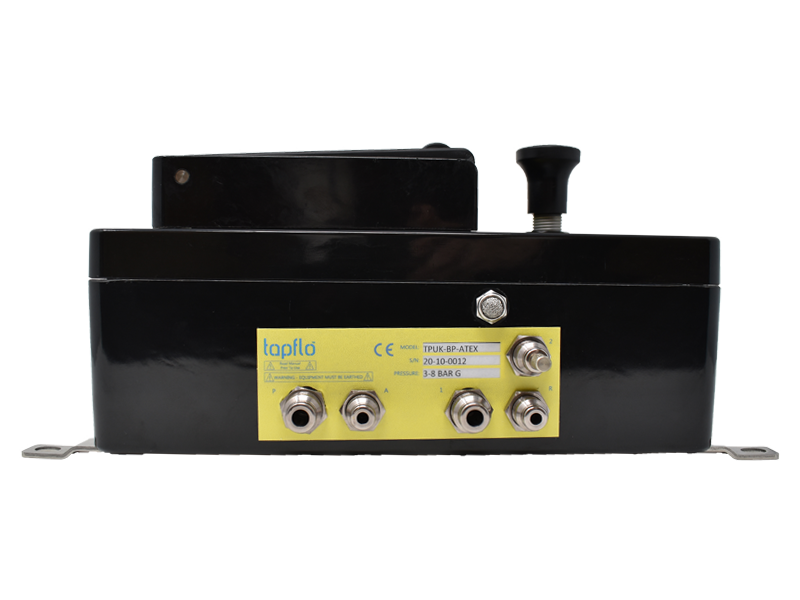 Technical Information
Pressure, Bar (TPUK-BP/TPUK-BT)
3-7/ 3-6
Temperatures
Up to 40ºC
Technical Details
| | |
| --- | --- |
| Ambient Temperature ºC | 0 to 40 |
| Air Pressure, Bar (G) (TPUK-BP/TPUK-BT) | 3-7/3-6 |
| Weight, (g) (TPUK-BP/TPUK-BT) | 1100/800 |
| Weight, (g) (TPUK-BP-ATEX) | 3200 |
| Dimensions (mm) (TPUK-BP/TPUK-BT) | 122 x 150 x 175 |
| Dimentions (mm) (TPUK-BPI/TPUK-BTI) | 129 x 150 x 175 |
To fit a Batcher, standard or ATEX, the following parts are required:
TPUK-B/NV-XX – Blocking Needle Valve (XX = Air Connection Size of Pump)
TPUK-MU-X – Modified Muffler (X = Output Air Connection, 1″ or ½")
Optional Extras:
TPUK-SSR – Remote Start / Stop Controller
If you have further questions, our Pump Specialists will have the answer.
Please don't hesitate to get in touch:
01928 333 400
[email protected]